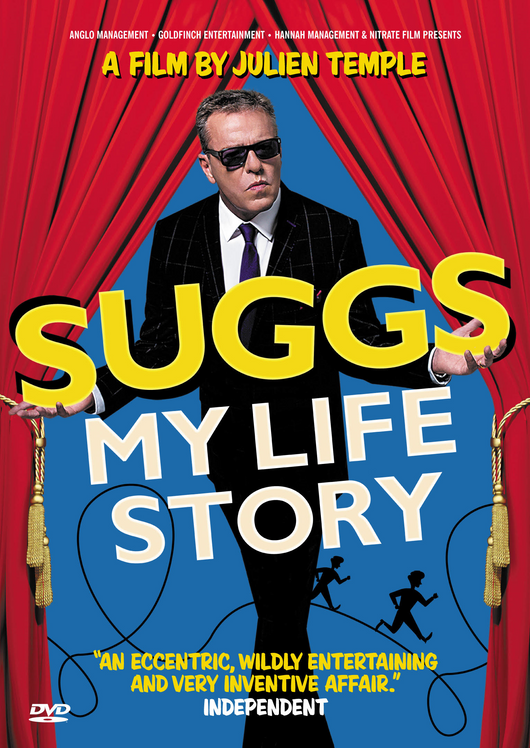 Suggs - My Life Story - DVD
Regular price £15.00 £10.00 Sale
Director Julien Temple ('The Great Rock n Roll Swindle', 'Absolute Beginners') takes a stage show, adds some drama, archive, animation and music, then shakes it all up for a 'montage' style film of performance as documentary in 'Suggs: My Life Story'.

Opening with Suggs (Graham McPherson) on stage in a London music hall, we move quickly to a bath where he recalls the death of his beloved cat on his fiftieth birthday, triggering a personal quest to discover what happened to the father he never knew.
From his early years on the streets of Soho, his inspirational schooldays, running the gauntlet of teenage tribes and football hooligans to hanging out with punks at The Roxy, the film switches styles to tell the story, with Suggs moving from words to music throughout, with songs written by The Kinks, Ian Dury, Prince Buster and of course his beloved Madness.
Tales of the Madness years roll into centre stage, with animation, archive and performance illustrating a Teddy Boy riot during an early gig in a florist's, through the fateful meeting with The Specials at the Hope & Anchor and the subsequent chaos of the 2 Tone explosion.
Weaving through the linear history is the attempts to find his father, his solo career, hosting a Karaoke TV show, becoming a DJ for Virgin Radio, a disappointingly small part acting opposite Keira Knightly and Sienna Miller.
Bouncing back for the Madness reunion, including the famous Madstock earthquake of 1992, when dancers in Finsbury Park caused tremors of five on the Richter scale and the evacuation of nearby tower blocks, the moral – or, let's be honest, the excuse for a singalong finale – is that only one thing matters, and it must be love, love, love.
'An eccentric, wildly entertaining and very inventive affair' - Geoffrey MacNab, The Independent.
'Oozes raffish charm' - Wendy Ibe, The Observer.
'Temple and Suggs imbue the film with a constant pulse. Welcome to the house of fun' - Alasdair Bayman – Dirty Movies'
'Continues his stately progress to national treasure status' - Peter Bradshaw, The Guardian.
100% on Rotten Tomatoes.