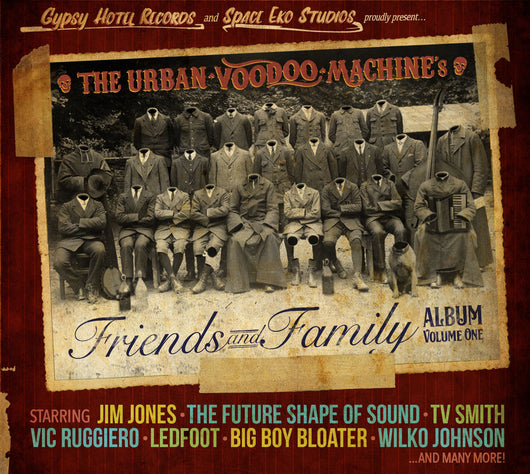 The Urban Voodoo Machine - Friends And Family Album Volume 1 - CD
Regular price £12.00 Sale
Welcome to the orphaned backstreets of East London, where a fiercely independent community of devoted musicians survives, making music for the love and the hell of it, contributing to each others projects, re-aligning magnetic fields at Space Eko East Recording Studios, and making it all real at live events such as the Gypsy Hotel Club Night, thereby offering up an alternative to soulless reality TV, corporate greed and manufactured pop acts.

The Friends And Family Album Vol.1 testifies to this underground musical movement - a selection of songs by The Urban Voodoo Machine covered and performed by friends of the band and Space Eko East, featuring over 80 musicians spanning from East London, via the USA and Canada with stopovers in Ukraine, Holland, Germany and Norway.

The artists on this album are as eclectic as eclectic and varied as The Urban Voodoo Machine's music itself, ranging from Vic Ruggiero of NYC's Ska sensation The Slackers to Canada's One Man Blues sensation Son Of Dave (ex-Crash Test Dummies), 1977 Punk legend TV Smith (The Adverts), via Jim Jones and the one and only Wilko Johnson.